Designed by Tom Stites, Nike's head club designer and one of the most respected craftsman in the industry, and developed with input from Tiger Woods, the whole Nike VR line, and more specifically the Nike Victory Red Forged Wedge reviewed here has the pedigree to be a special product indeed.
Picking up the wedge, I can see their high standards and keen eye for detail has been manifested onto the stick. With lovely clean lines of a traditional wedge head shape and a pleasing color scheme, the Nike VR makes for a really good first impression.
Precision forged from 1025 Carbon Steel and CNC-machined to precise tolerances, the VR wedge fulfils one of Tiger's requirements for the VR line, namely that they must have unsurpassed feel.
Ebay.com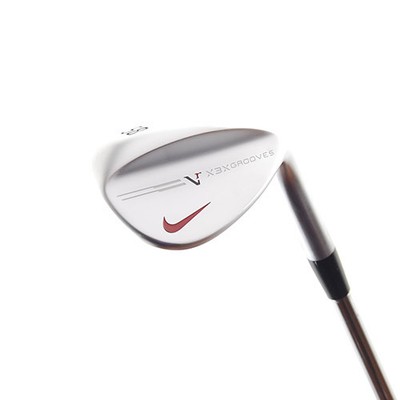 Ebay.com
The Nike VR Forged Wedge features Nike's High Rev grooves, which are designed and milled onto the club head to the limit of USGA regulations for maximum spin, increased control and shot placement from all lies. The wider and deeper grooves also function to prevent debris and water from clogging the clubface so you always have consistent impact and total control over shot placement and spin without having to resort to wipe the grooves clean after every shot out of the sand or rough.
The sole sports a tour-inspired heel grind that enables you to open the clubface and make a variety of shots from various lies, which with the multiple loft and bounce options available enables you to find the club that works best with the turf conditions that you encounter as well as your swing type.
I found the wedge very easy to hit. It does generate a lot of spin and allows good control of your shots. You can take dead aim at the flag, safe in the knowledge that the ball will stop where you want it to land.
The Nike VR Forged is versatile and forgiving enough for players of all levels, though the more advanced player will benefit the most from the high level of spin, feel and precision offered. Definitely one product I have no hesitation in recommending the Nike Victory Red Forged Wedge.